Friday, August 12 - Location - Saqra's Studio http://www.saqra.net/lastoasis.html
6:30pm-8:30pm - Mahmoud Reda in Lecture & Q&A - topic: The production of the stage shows "The World Dances With Mahmoud Reda" discussing Reda's choreographies, training the international performers, and actual event production for the famous shows presented in conjunction with the library of Alexandria in Egypt.
Saturday, August 13 - Kent-Meridian Gymnasium
9:45am Doors open for Saturday workshop participants
10:00-12:30 Workshop - A new dramatic Reda Choreography, plus technique!
12:30-1:30 Break
1:30-4:00 Workshop continues
7:00 Meet-and-Greet Buffet with the legendary Reda!
Sunday August 14 - Kent-Meridian Gymnasium
9:45 Doors open for Sunday workshop participants
10:00-12:30 Workshop - A new Reda choreography to 10/8 music, plus technique!
12:30-1:30 Break
1:30-4:00 Workshop continues
Snacks, fruit, water available during workshops both days. Many restaurants available within walking distance of the event site. Topic info in FAQ section.
Friday Lecture: $40 advance/$55 at door
Saturday Workshop $95 advance/$115 at door
Sunday Workshop $95 advance/$115 at door
Paypal below, or checks payable to Saqra, 23625 41st Ave S, Kent WA 98032
| | |
| --- | --- |
| Friday Lecture $40 - over | |
| Saturday Workshop $115 at door | |
| Sunday Workshop $95 ($115 at door) | |
SPACE IS LIMITED! REGISTER NOW!
Please note: no refunds, but your registration is transferrable.
---
SO YOU AREN'T A DANCER?

JUST WANT TO MEET MAHMOUD REDA?

Join us for our Mahmoud Reda Meet-and-Greet Buffet Dinner!

Saturday Aug 13 - 7pm at

HD Hotspurs at 315 S Washington in Kent, WA 98032 www.hdhotspursbbq.com

Tickets: $35

Come meet the legendary Mahmoud Reda, enjoy a wonderful hearty buffet dinner and beverages (non-alcoholic included but no host bar available), and enjoy highlights of dances from Reda's movies (think he will resist commenting on them? I doubt it!), and maybe a little live music with RaqsBand for you to shake your tailfeathers to if things quiet down too much (and if you have any energy left)!

SPACE IS LIMITED! Tickets are first come, first served.... so reserve your space now!
All ages welcome.


Or email saqra@saqra.net to discuss holding tickets, where to mail checks, etc.
The number 1 frequestly asked question is what the content of the workshop will be. We are not told that in advance though the choreographies will be different from last year. There are 5 different choreographies being taught on this tour.. two of them will be taught here. This is Mahmoud Reda... nobody really decides on the basis of content as his workshops are always terrific and learning his style will definitely enhance and modify your dance.
The Sat and Sun dance workshops are at the Gymnasium at Kent-Meridian High School instead of the cafeteria from last year to get away from the textured floor.
To enquire about private lessons with Mr Reda or ANY other information please contact Saqra at saqra@saqra.net or call 253-813-8580
Our thanks to Cause It's Art for all their support! Please visit them at http://causeitsart.org/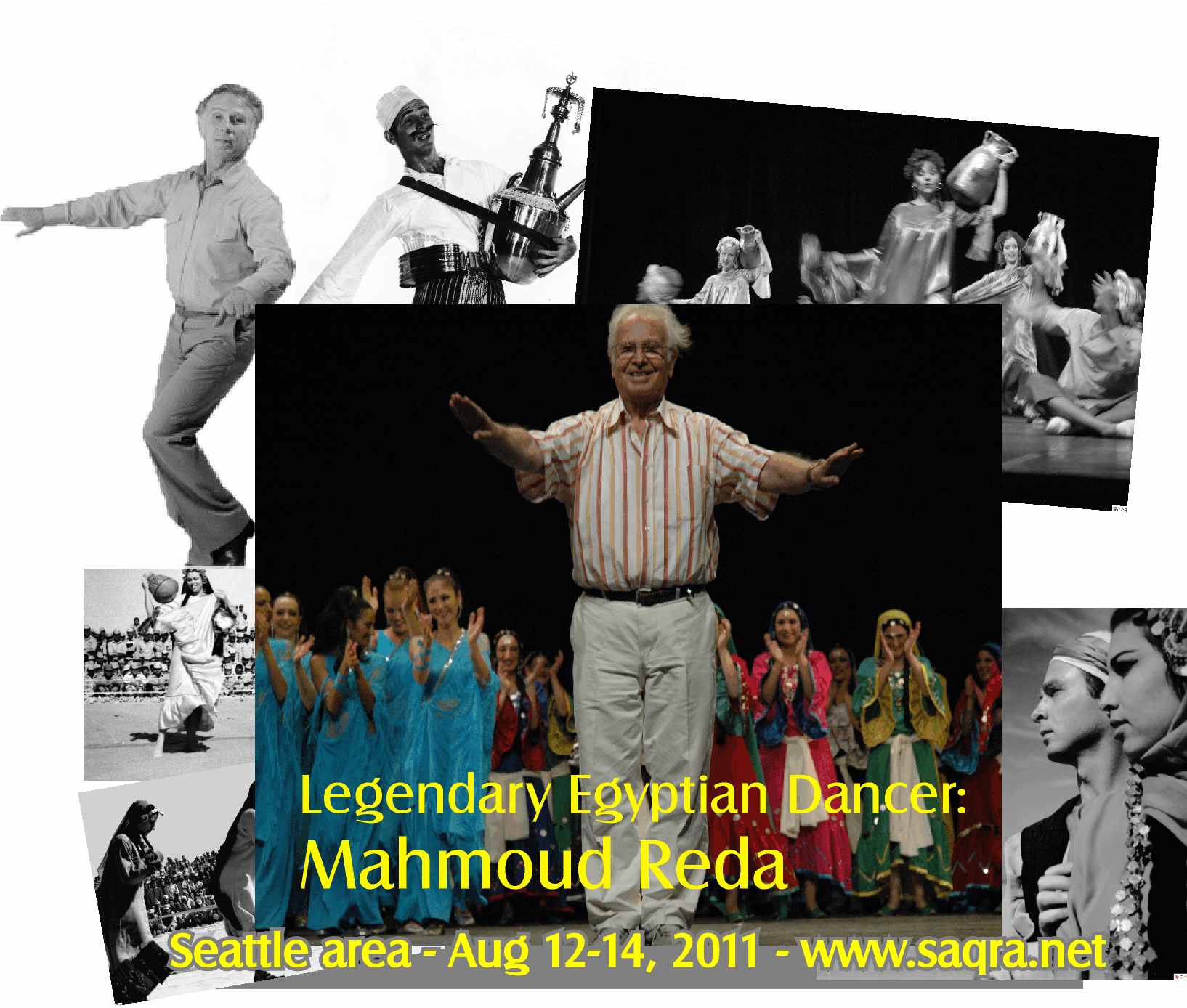 Mahmoud Reda, pioneer of Middle Eastern dance theater in Egypt, founder of the first folk dance company, the Reda Troupe, and star of film and television needs no introduction. He is widely recognized throughout the world for his complex, yet simple and clean choreographies and theatrical presentations of Middle Eastern dance.

As a soloist, choreographer and director in the 1950s and '60s, he redefined Middle Eastern dance through combining disciplined ballet-based training with theater presentation and brought Egypt's rich dance heritage to the concert stage, elevating the status of professional theater dancers in Egypt.

With his Reda Troupe he traveled all over the world performing in the most prestigious venues, including Carnegie Hall, NYC. Kings, queens and heads of states number among his distinguished audience.

Long considered the Gene Kelly of Egypt, Reda now tours the world teaching dance workshops. Like his choreography, his teaching style is clear and precise. These seminars are for all levels of dancer.
Mahmoud Reda's work was recently featured on CNN International's Inside the Middle East...
http://edition.cnn.com/CNNI/Programs/middle.east/
Click on the link above, Then Scroll Down The Left Side To "Video", then select the "Inside The Cecil Hotel" segment... Mahmoud Reda is in the second half.
And here he is dancing when he was younger: http://www.facebook.com/video/video.php?v=430172587597
MAHMOUD REDA - 2011 USA TOUR DATES
Dallas, TX - July 23 & 24 - sponsor: Tambra
Madison, WI - July 30 &31 - sponsor: Dance Life Studio
Danbury,CT - August 6 & 7 - sponsor: Riskallah Riyad
Seattle, WA - August 13 & 14 - sponsor: Saqra
Denver, CO - August 20 & 21 - sponsor: Jawahir Bahiya
San Diego, CA - August 27 & 28 - sponsor: Morwenna
Atlanta, GA - Sept 3-4 - sponsor: Amani
Days Inn - 1711 West Meeker Street, Kent, WA 98032 Phone: 253-854-1950
Holiday Inn - 22318 84th Ave S, Kent WA 98032 Phone: 888-897-0084
Extended Stay America - has kitchenettes - 22520 83rd Ave. S., Kent, WA 98032 Phone: 253-872-6514
Howard Johnson's - cheap, does take pets - 1233 North Central Avenue, Kent, WA 98032 Phone: 253-852-7224
Embassy Suites - very nice, airport shuttle - 15920 West Valley Hwy, Seattle WA 98188 Phone: 425-227-9567
No hotels are within walking distance of the event. Hotels listed are between Seatac Airport and the event site. Event site is 8.5 miles from Seatac Airport.
Saturday & Sunday events located at Kent-Meridian High School 10020 Se 256th St, Kent, WA
SAT & SUN EVENT DIRECTIONS (Friday Lecture at Saqra's Studio - see http://www.saqra.net/lastoasis.html for directions)
Coming North on I-5 From Tacoma:
Take exit #149/KENT/DES MOINES - go 0.3 miles
Right on S KENT DES MOINES RD (WA-516) - about 3 miles
Continue forward on WILLIS ST (changes as it crosses under the freeway)
Turn Left on CENTRAL AVE at the T - go 0.1 miles
Turn Right on SMITH ST - go 1.0 miles
Continue on CANYON DR (WA-516)
Arrive at 10020 SE 256TH ST, KENT, on the Left -- Kent-Meridian High School
----------------------------
Coming South on I-5 From Seattle:
I-405 N toward RENTON - go 2.0 miles
Take exit #2/RENTON/AUBURN onto WA-167 S toward KENT/AUBURN - go about 5 miles
Take the WILLIS ST Exit
Turn Left on WILLIS ST
Turn Left on CENTRAL AVE at the T - go 0.1 miles
Turn Right on SMITH ST - go 1.0 miles
Continue on CANYON DR (WA-516)
Arrive at 10020 SE 256TH ST, KENT, on the Left -- Kent-Meridian High School